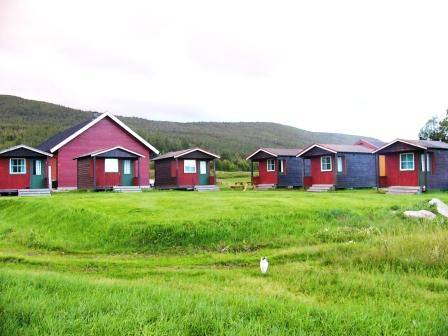 The campsite consists of 6 fishing-cabins of 11 sq.m. each. With 4 beds, kitchentools, cooking plates and refrigerator in each cabin. Brand new showers and toilets are located in a building next to the cabins.
The area where the camping is placed, is very varied and well suited for fly-fishing, with a lot of fish. Especially greyling, but you can also get trout and pike, and some mountain white fish. The river is a bit special by the camp. It varies from slow to fast waters, and from shallow to deep and very deep waters. An exciting area to fish in.
The camping is situated in a zone for fly-fishing only, which is 14 km. long. On www.fishspot.no You can find prices, information and You can buy fishing licenses.
If you take a look at the link «how to get here», you can find the easiest route to the camping from where you are.
Cabins can also be ordered on www.Inatur.no cabinrent – search for Tynset